Now on Planet Waves :: Taurus New Moon & Eclipse :: Don't Be Afraid to Care :: Two Excellent Interviews
Tonight's program, full resolution | David Byrne's chart
Tonight's program, mono, lower bandwidth
Bobby Anne Cox interview, stand-alone

My exchange with Robert F. Kennedy, Jr.
Christine Massey interview, stand-alone

Dear Friend and Listener:
First, please note we are specializing the Planet Waves FM list. If you would like to get those mailings, so we may cut down on mail volume, here the link to sign up.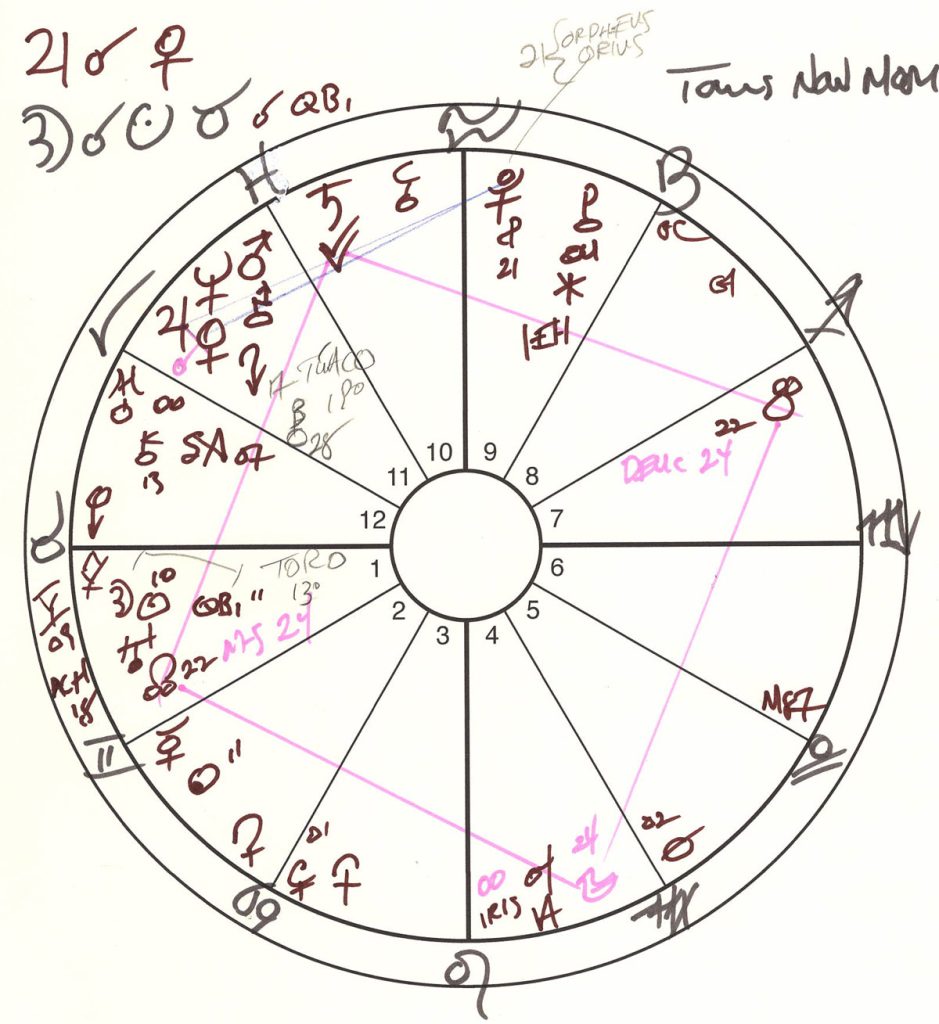 I'm planning a new program for 10 pm EDT tonight, which I will begin with a discussion of the Taurus New Moon, and why we must learn, or learn again, how to care. I will be taking a close look at the chart, departing from what posted last night in STARCAST and my new article about the new Moon.
Saturday's New Moon is also a partial solar eclipse. That is the tension and the static that is hanging in the air. We last experienced a solar eclipse on December 4, 2021. The time has gone quickly. I'll have more to say about this tonight.
My guests tonight (both returning) are Christine Massey, who has run the Freedom of Information project associated with querying governments about having samples of the virus; and Bobbie Anne Cox, the New York attorney who has brought a lawsuit seeking to block New York's regulation allowing jailing people on suspicion of having a disease.
In case you missed them, Dr. Sam Bailey published a new interview with me earlier this week. And I have a new article also making the rounds about comments made to me by Robert F. Kennedy, Jr., the son of Sen. Robert F. Kennedy, and nephew of Pres. John F. Kennedy. After long avoiding the issue, Kennedy admitted that there exists a controversy over whenever SARS-CoV-2 exists.
Thanks for tuning in. If all goes well — catch you before 10 eastern.
We remain entirely listener supported.
Planet Waves FM and Chiron Return are not a blog, a Substack, or a YouTube channel. We are an accredited news organization capable of doing any story — the more complex and difficult, the better. We are honored to offer our services to the public free of charge, though for that, we depend upon those who share our vision. Thank you for your generosity.
With love,


PS — If you are the steward of a charitable family trust and want to offer resources to a nonprofit doing very good work, please contact me at [email protected], or call me at (845) 481-5616. We have plans, and you may be the one to help make them happen. Thank you.