Mars Stations Direct; Cuba Rant; Olbermann
Correction: At about 22 minutes I reference Eris as representing service — I mean VESTA. The Sun is currently conjunct both, in Aries. Note 2, Pholus was indeed square Neptune for 20 years. Here is an aspectarian.–efc


---
Today's extravagant edition of Planet Waves FM covers Mars stationing direct and the Sun's current conjunction to Eris. These events are related, they're exciting and they are interesting.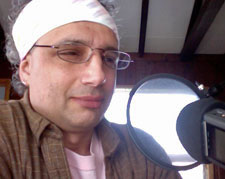 Mars is changing directions square the lunar nodes, so this is a bigger moment than it may seem — a moment of consciously directing your will.
Mars will move on from Virgo charged up with all the impeccable Virgo vibes you can imagine — a great thing for Mars.
In the second half of the program, I cover Ozzie Guillen's run-in with the anti-Castro forces. I look at the controversy the way it's been cast on TV, and then go below the story and explain what Guillen meant when he said he respected Castro not because he's so nice but rather because he's survived six decades of assassination attempts. Finally, I go over the natal chart of Keith Olbermann.
Here is your program in the old player, where you'll find the full archives and a downloadable zip file.
Thanks for tuning in.

PS, here's a crazy little thing by my friend Lars…

Did you know that Planet Waves offers you a variety of astrological readings for every sign in audio format including birthday reports? You're invited to check them out in our audio store. If you'd like access to Eric's weekly and monthly horoscopes, visit this link to access your free trial to our premium twice-weekly astrology service.
Keith's chart is below…