Recording Engineer Rob Fraboni
---
Today I have a special edition of Planet Waves FM for you — an interview with Rob Fraboni. You may not have heard his name, but you've heard his work. It's an odd coincidence that Rob produced the Bob Dylan album Planet Waves. Here is how the Wikipedia editors describe him —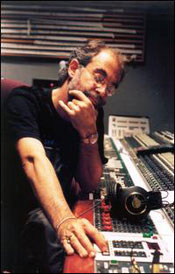 "Rob is well-known for his work with Bob Dylan, The Band, Eric Clapton, The Rolling Stones, Tim Hardin, The Beach Boys, Joe Cocker, and Bonnie Raitt, and as Vice President at Island Records where he remastered the entire Bob Marley catalog.
"He produced the soundtrack on Martin Scorsese's groundbreaking concert movie, The Last Waltz, which included an all-star cast of famous rock and roll performers. He built and designed the legendary Shangri-La studios in Malibu to the specification of Bob Dylan and the Band. Referred to as a 'genius' by Keith Richards in his bestselling autobiography Life, he is considered one of the most influential recording producers in rock and roll history."
Rob and I talk about the history of some of this music, including never-before told stories about The Basement Tapes, The Red Room Tapes and most notably, The Last Waltz. We straighten out the rumor that the whole film was overdubbed. Rob would know — he mastered the soundtrack and solved a big problem with the transitions in the film.
We also hear from Rob about his views on digital music, MP3s, and how to get the best sound with the simplest possible setup. If you know any fans of Dylan, The Band, the Rolling Stones or anyone who would aspire to either record, or be in the business, please send them this link.
Rob will see this page, so you're free to leave comments and messages to him in the comment area. Special thanks to Special Rider Music for permission to use two of Bob's songs, which were re-mastered by Fraboni — "I Don't Believe You" and "Forever Young," both from The Last Waltz soundtrack.
Here is your recording in the Old Player, which includes a downloadable archive. It should update automatically when you launch iTunes, at least in a short while.
Enjoy!


Note to readers — there are many more podcasts, the full archives, recordings and interviews from astrology conferences and much more at the Planet Waves FM homepage.