Pope Benedict XVI this week became the first person to resign the papacy in nearly 600 years. This happened during a week of centaur conjunctions (covered in detail in Tuesday's edition of Daily Astrology), which tend to bring shadow material to light. Benedict was directly implicated in the child rape coverup that has been shaking the church for more than 20 years, and which turns out to date to the 1950s, so this was an appropriate time for him to quit.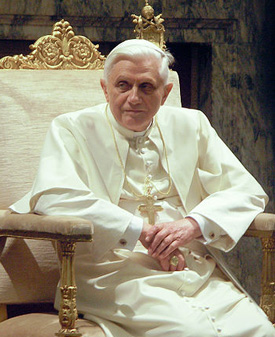 This is a complicated chart, reaching into the highest affairs of government and corporate power, and may speak to something much larger; some are proposing that the child rape version of the story is a coverup for another story — a money laundering scandal in the Vatican bank.
I ran across he work of a writer named Keven Annett, who explained this position. I thought I would check his theories against the chart and they do seem to hold water, if not holy water. In astrology, the themes of power, sex and money are related through the 2nd and 8th houses, and it turns out that this chart is all about those houses — with other implications taking it to the top of the world management team. The chart for the resignation announcement is below; here is a zip file of all the charts I've used.
I also reference my coverage of Ratzinger's election as pope in 2005 — I covered that at the time for Jonathan Cainer's website in article called "Pope Signals."
Our musical guest is Sinead O'Connor; I play a live recording of a song called Whomsoever Dwells, which you can watch on her website here, or purchase the full compilation.
The main chart is below.
Here is your program in the Old Player. Note, you can download a compressed file of the program on the Old Player page, which also includes a full archive of Planet Waves FM going back to 2010. More recent programs are collected in the category listing at the top of the blog frame.
With love,


Did you know that Planet Waves offers you astrological readings for every sign in audio format including birthday reports? You're invited to check out my other products in our audio store. If you'd like experience my weekly and monthly horoscopes, visit this link to access your free trial to our premium twice-weekly astrology service.