Full Moon: Welcome to Meltdown Country
Use this link if you're listening on an iOS or mobile device.
---
Eric has nearly completed BALANCE, the 2016 Midyear Reading, and will finish publication by Aug. 17. You can still get all 12 signs for just $57.
If you're Virgo Sun, Moon or rising, you can now pre-order your 2016-17 birthday reading by Eric and find out what the gathering of planets in your sign will mean for you.
---
Dear Friend and Reader:
It's not really necessary to respond this way, but the astrology is taking us for a tour of meltdown country. You can espy all the usual features of the landscape — insecurity, anger, guilt or alienation — and if you look a little past them, you'll see some tangible options for healing, growth and creative endeavor.
Tonight's program is focused on the astrology of the next eight days or so, taking us through the Full Moon and into the Mars-Saturn-Neptune configuration that peaks around Aug. 22-25.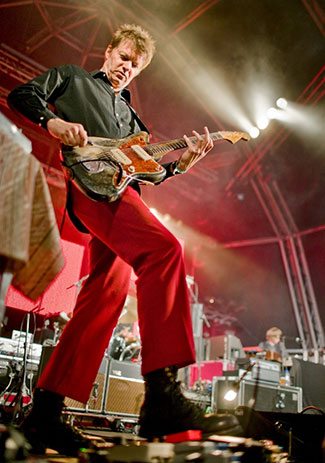 This is astrology that requires special handling, perspective and a touch of detachment. There may be situations that can draw you in, though you could just as easily take a step back and not be so affected by what others are going through.
I scope out the planetary movements through the Libra Equinox, which is pretty much the "all clear for now" signal after the eclipses have passed, Mercury is done being retrograde, Jupiter has changed signs and a few other bits. Between then and now, we get a little adventure.
So don't play it cool; be cool, till you're ready to be hot, then turn it up.
Speaking of both hot and cool, my musical guest tonight is the inimitable, friendly artist of guitar, Nels Cline. We met him a few weeks ago when I introduced you to Wilco; he plays the wood and wire contraption for them.
This week he's shared with the world what seems like 20 years of creative experimentation in the form of a double album called Lovers. This CD is like a movie with many scenes, or rather a short film festival; it's like a tarot deck; it's a kind of history of all love, and all its feelings, performed as improv instrumental experimental jazz.
You can get it on iTunes here, or on Amazon here. The CD is forthcoming, and vinyl is forthcoming after that.
One last: BALANCE is about to be finished. Ten of the 12 signs are done and posted; by pretty early Wednesday, Virgo and Pisces will go up.
If you're wondering what all this astrology I'm describing in this Planet Waves FM means for you, BALANCE is where to find out. You can get all 12 signs — recommended; tomorrow we'll send out an email and post to the various interwebs info on how to purchase individual signs.
That, and thank you to our subscribers and clients, who make possible this commercial-free program each week.
With love,